'Ajman Bank' signs a Joint Cooperation Agreement with 'Takaful Emarat'
'Ajman Bank' signs a Joint Cooperation Agreement with 'Takaful Emarat'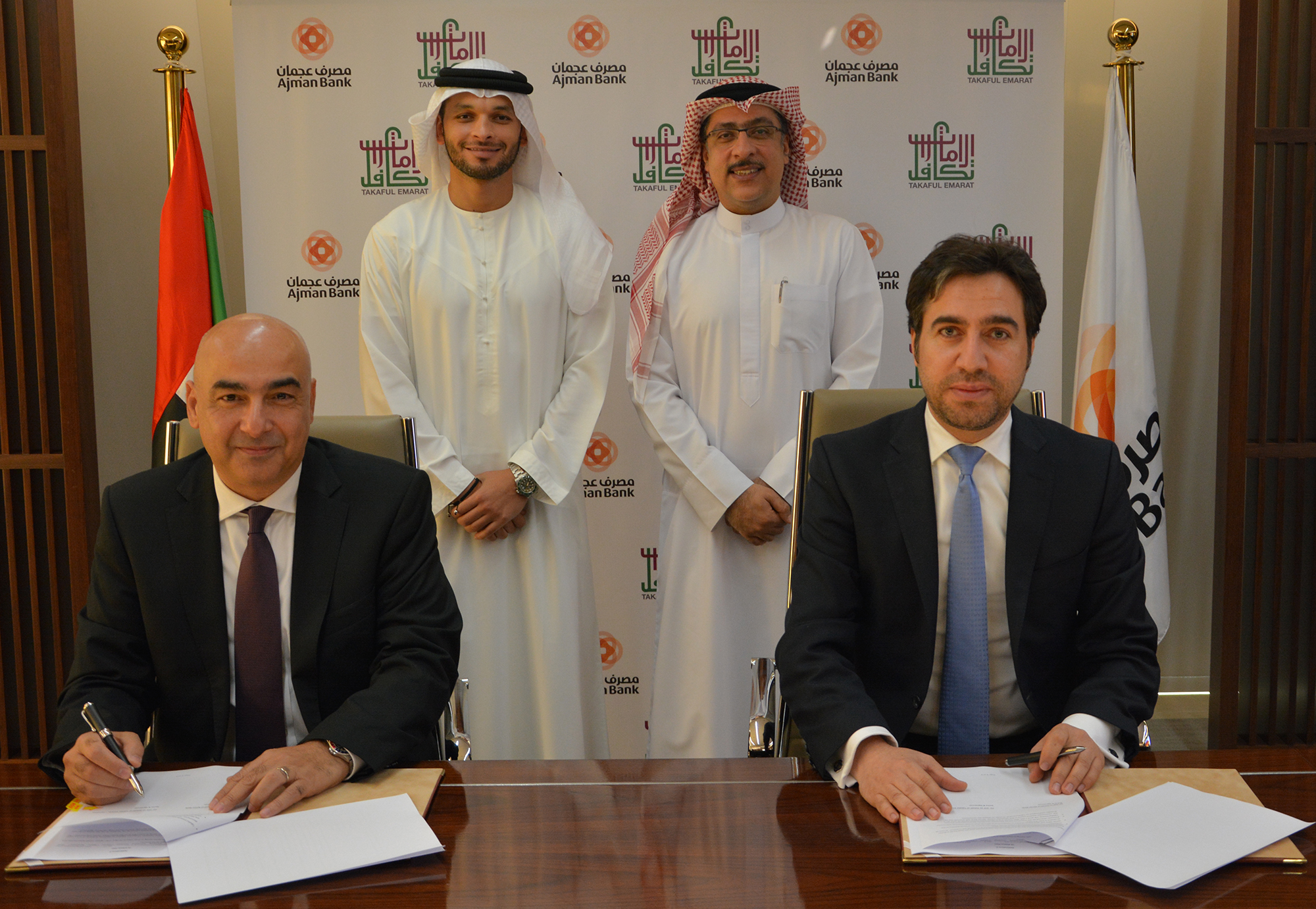 December 14, 2016, Ajman UAE
Ajman, UAE – Ajman Bank today announced it's signing of joint cooperation with Emirates Takaful Company. The two sides shall work to conclude a new implementing joint cooperation agreement to provide Shariah-compliant health and life insurers approved by the Department of Health Authority to support the roll out of mandatory health insurance in Dubai.
The agreement is the first of its kind to offer this type of service through Islamic banks, where Emirates Takaful is the first takaful company accredited by the Dubai Health Authority to provide mandatory health insurance services.
The signing ceremony was witnessed by Mr. Mohammad Amiri, CEO of Ajman Bank, Mr. Hisham Hammoud, Chief Business Officer and Executive Vice President at Ajman Bank and Mr. Mohammed Al Hawari, Managing Director and Board Executive of Takaful Emarat along with Mr. Wael Al-Sharif, CEO of Takaful Emarat.
Mr. Mohamed Amiri, Chief Executive Officer, Ajman Bank, said," Our vision is to be the preferred banking partner pioneering in our times, and as we all know that in light of the nature of escalation of the competition, the important complementary role is to develop partnership between financial institutions."
He further added' "This joint agreement in cooperation with "Takaful Emarat" is a true reflection of our focus and efforts to enhance the development of the banking insurance system and provision of reciprocal system complementarily between the two sides of banking products and insurance services, and support the work of Takaful UAE through banking channels by providing access to a wider segment of customers in order to leverage the fundamental pillar of the Islamic banking and Insurance".
Mr. Mohamed Amiri, further stated, "The agreement also entitles bank's customers insurance and banking products from the same source through Ajman Bank."
On the signing of the agreement, Mr. Hisham Hammoud said, "Ajman Bank is pleased with this agreement with 'Takaful Emarat', which comes amid growing demand for mandatory health insurance services in the Emirates of Dubai."
Mr. Hammoud further added, "We at Ajman Bank continue to provide an outstanding and completely trusted financial service offering, where Takaful Emarat in line with the DHA's rollout of mandatory health insurance offers bank's customers mandatory insurance for residency issuance and renewal in Dubai and where we are offering a wide range of Takaful insurance products and bouquets of insurance and investment services to clients Ajman Bank from from individuals, companies and government institutions."
Mr. Mohammed Al Hawari, Managing Director and Board Executive of Takaful Emarat said, "This agreement is the first of its kind to offer Shariah-compliant investments solutions and demonstrates quality and high standards of Takaful Emarat's to achieve the company's mission to provide solidarity for all. We are proud to partner with Ajman Bank, one of the fastest growing banks in the UAE, which will in turn help promote insurance awareness and broaden the spread of our products all over the country. "
Mr. Wael Al-Sharif, CEO of Takaful Emarat said, "We are delighted to sign this strategic partnership with Ajman Bank where we can contribute to the provision of Shariah-compliant insurance services to bank customers, and strengthen Takaful Emarat's position at the forefront of the industry in the UAE and the region."
It is worth mentioning that the joint cooperation agreement comes within the framework of integration between banking and Takaful insurance companies in the implementation of new marketing strategies aimed at developing bancassurance activities through Islamic banks and economic institutions, to keep pace with the latest global financial and economic environment variables.
About Ajman Bank:
Islamic bank with an ambitious vision, built on integrity, trust and transparency values, seeks to provide a wide range of Shariah compliant and high quality banking services to customers from individuals, companies and government institutions at the state level. It is also keen to be updated with latest technology that will ensure customers a distinctive experimental banking with the revival of human touch that is lost in the modern era of banking application.
Ajman Bank, based in the emirates' of Ajman has strong support from the government, which is a fundamental pillar in the economic development of the emirate's strategy. The bank continues its tireless efforts to become an Islamic banking institution sustainable in every sense of the word, with an emphasis on the need to achieve an optimal balance in the community and caring staff, in order to provide real value for shareholders and customers alike.