Enjoy all the benefits of your Ajman Bank Card using Apple Pay.
It is the easy, secure, and private way to pay.*



Fast, easy and secure

Pay within seconds

without going to your wallet.




High level of security

Pay with

Touch ID




Accepted anywhere

Use Apple Pay

worldwide
Add your card to Apple Pay.
Setup is easy.
Adding your card to Apple Pay is simple.*
Here's how to get started.
Step 1: Open the Wallet app.
Step 2: Tap the "+" sign in the upper-right corner.
Step 3: Enter your card's security code to add your credit or debit card affiliated with your iTunes account. Or, select "Add a different card," and use your iPhone camera to scan the card information.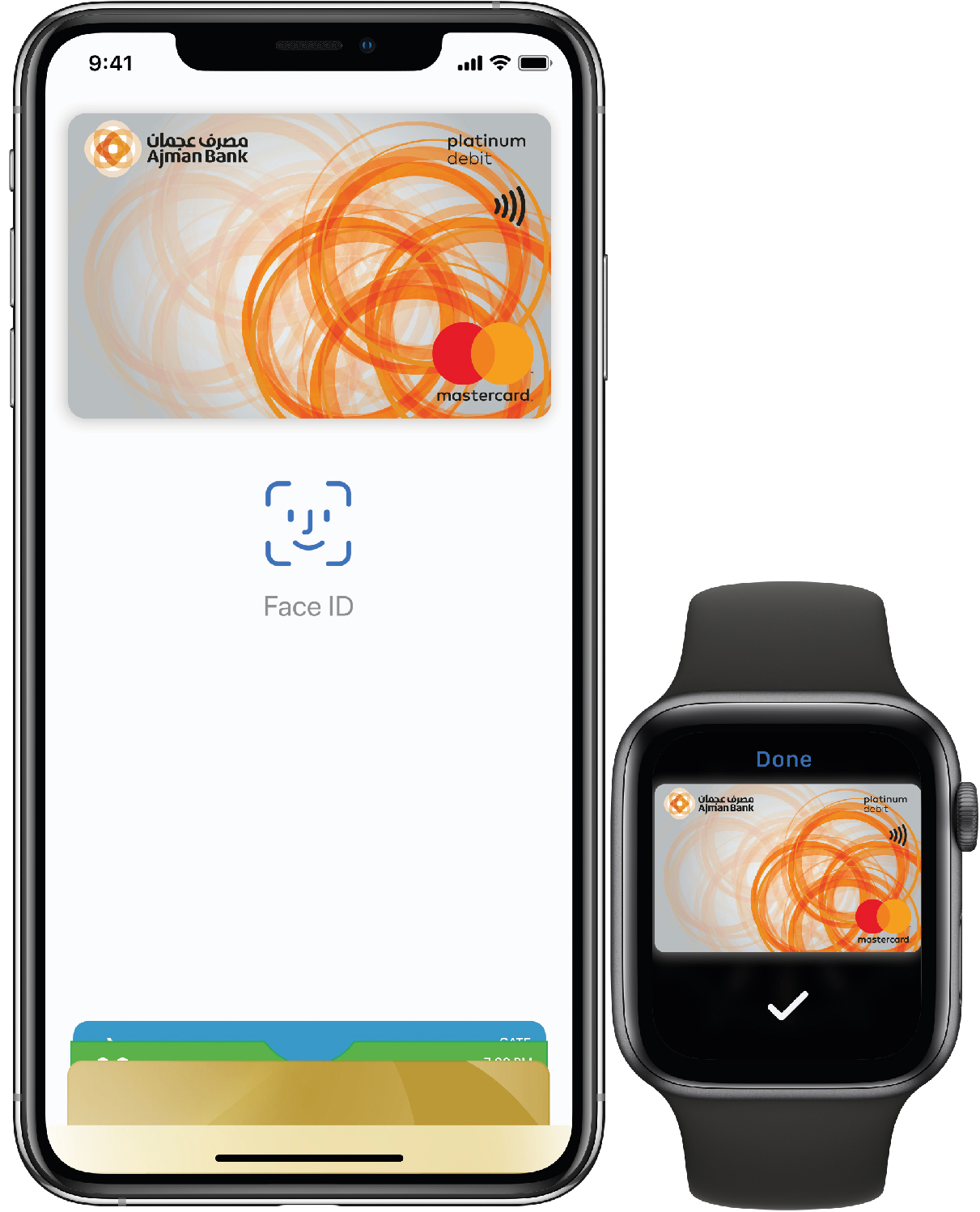 How to pay?
Apple Pay is the safer, faster way to pay in stores with your iPhone and Apple Watch. Quickly check out using the devices you carry every day.*
To pay with Face ID, double-click the side button, glance at your screen, then hold iPhone near the reader. For Touch ID, hold your iPhone near the reader with your finger on Touch ID. On Apple Watch, double-click the side button and hold Apple Watch up to the reader.
Use Apple Pay wherever you see one of these symbols.

*For a list of compatible Apple Pay devices, see support.apple.com/km207105.
FAQs
Apple Pay is a way of paying where you can use the virtual card set up on the 'Wallet' app of your Apple device to make a payment instead of using your physical Ajman Bank card.
This can be done by activating Apple Pay on your device and holding it near a POS machine reader until you see Done and a checkmark on the display. If you are shopping online – you can use the Apple Pay option at the checkout as well.
Apple Pay does not send your actual card number with your payment, instead, a virtual card number is used to represent your account information – so your card details stay safe. Also, you´ll need to authorize every transaction by Touch ID or your passcode every time you make a purchase.
Yes, you can. But with a limit of 5 devices.